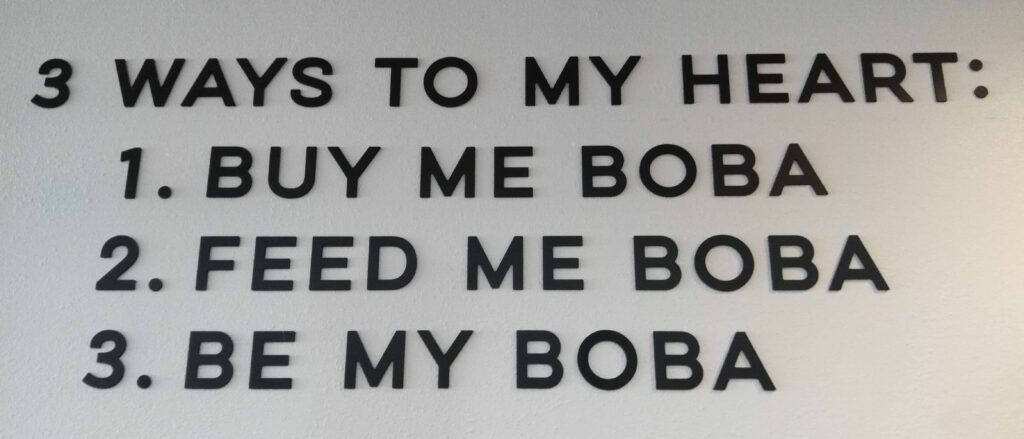 Introduction to Boba Tea
Maybe you've heard it referred to as boba tea. Maybe you call it bubble tea. Or maybe you've always wondered why there are little black balls at the bottom of that drink. I took an informal poll and asked people the following question:
What do you think of when you hear "boba tea"?
The responses were as varied as the number of teas available!
Time spent with my son; we like to go and grab some tea together once in a while
Slimy stuff at the bottom
My kids' obsession with it
A milk tea with sweet boba (tapioca pearls) and ice!
Taiwan!
Sweet drink with gummy balls. Yum!
GIANT fish eggs…
Summer!
Calories… Lots and lots of calories
Yum. And Basil Pop Chicken lol. We always get it with our boba!
Cold and refreshing and I like the tapioca balls. Also happy that it's a drink that can be dairy free.
Heaven on earth, I could drink this every day of my life, why doesn't the coffee stand sell boba tea?
This stuff is gross, I'm pretty sure my sister is more Chinese than I am.
Bubbles, my daughter and granddaughter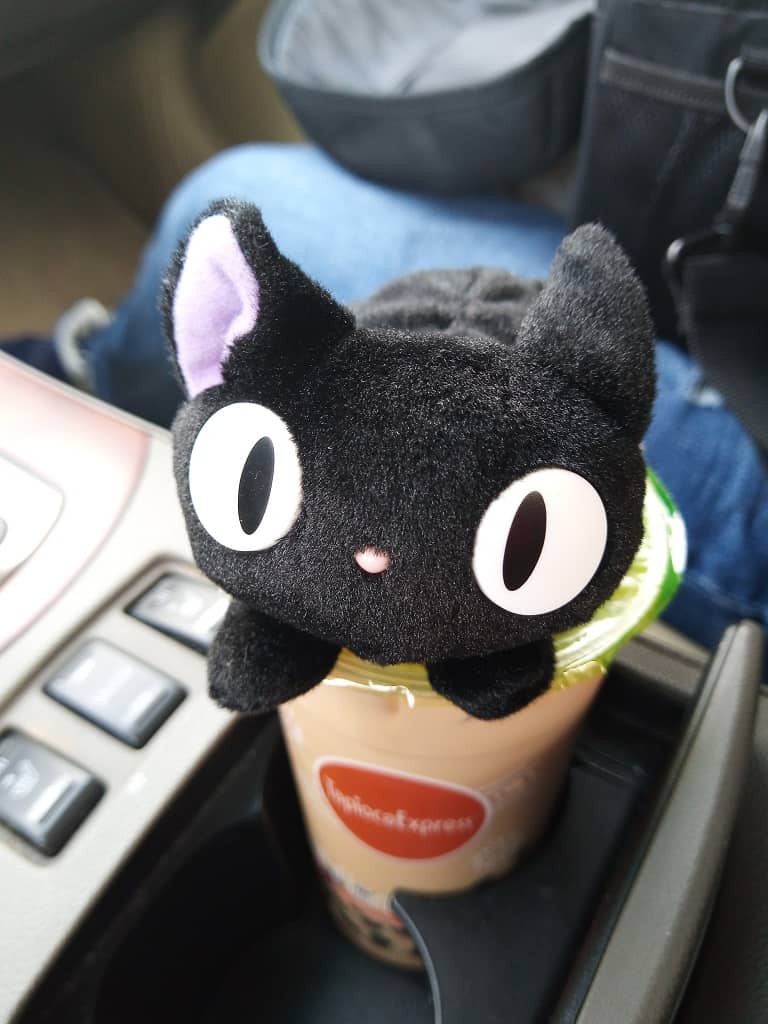 What is Boba Tea?
Traditional boba tea has several ingredients:
Tea – green or black
Milk – cow's milk, though some shops now offer alternative non-dairy milk options
Boba – tapioca pearls
Boba tea originated in Taiwan and has since become an international favorite. Here in Bellevue, at the time of this writing, there are fourteen (14!) boba shops. I have visited almost all of them and wanted to highlight my three favorite shops. Bellevue is just a quick hop (15 minute drive) from Seattle. If you are in the Bellevue area, try one of these shops and let me know what you think!
#3 – Tapioca Express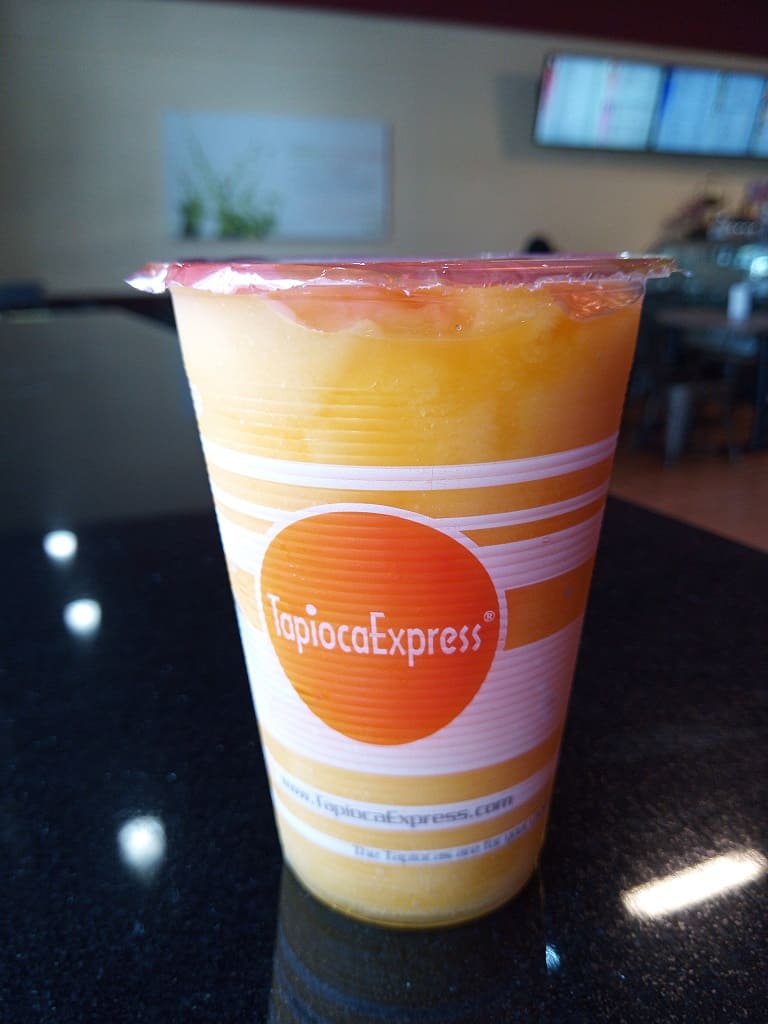 Tapioca Express is a chain boba tea shop with a franchise location in Bellevue. Tapioca Express has a huge menu with both drinks and food available to order. In my poll, one of the commenters mentioned that she always orders the popcorn chicken when she buys boba tea. Tapioca Express has popcorn chicken! And if you're vegetarian, they also sell a tofu snack with the same spices.
My favorite drink is the peach green tea. Another household favorite is the traditional tapioca milk tea.
If you want to try something a little different, the chocolate snow bubble is amazing. It reminds me of a Frappuccino and it's so refreshing on a hot summer afternoon.
My only complaint with Tapioca Express is that they occasionally run out of boba. Thankfully they have a lot of other topping options.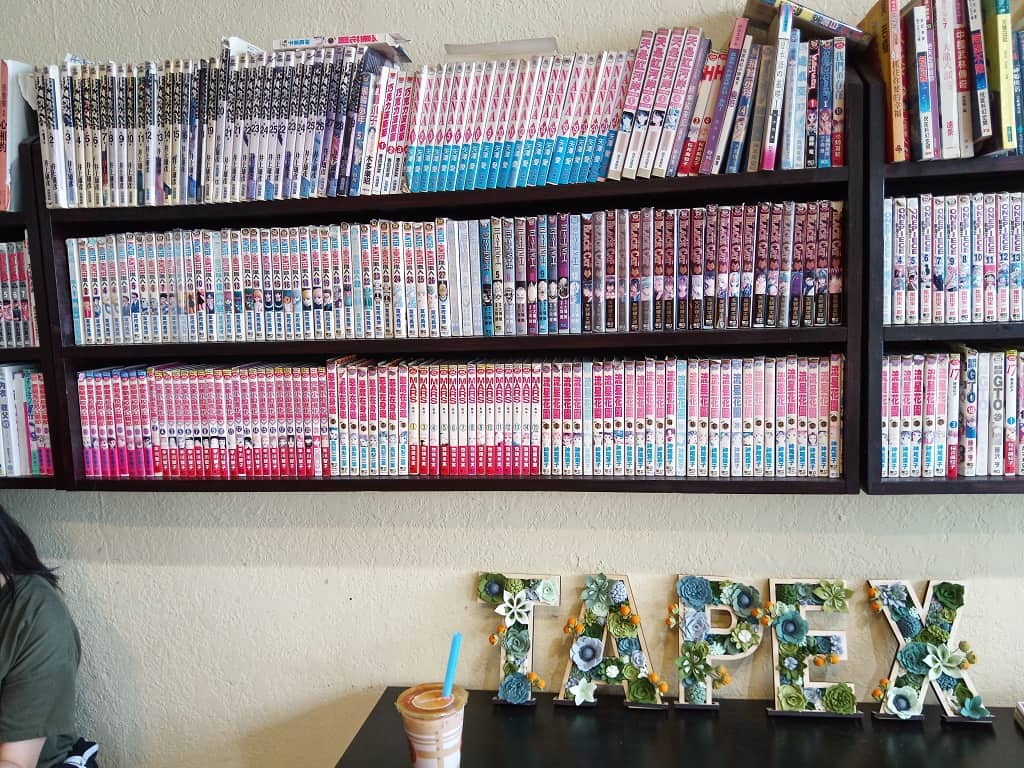 Tapioca Express has a small manhua (manga) selection so that you can sit and read. The entire bookshelf is in Chinese so you can practice your language learning while waiting for your drink!
Website
Address:
15230 NE 24th St
Redmond, WA 98052
#2 – Over the Rainbow Tea Bar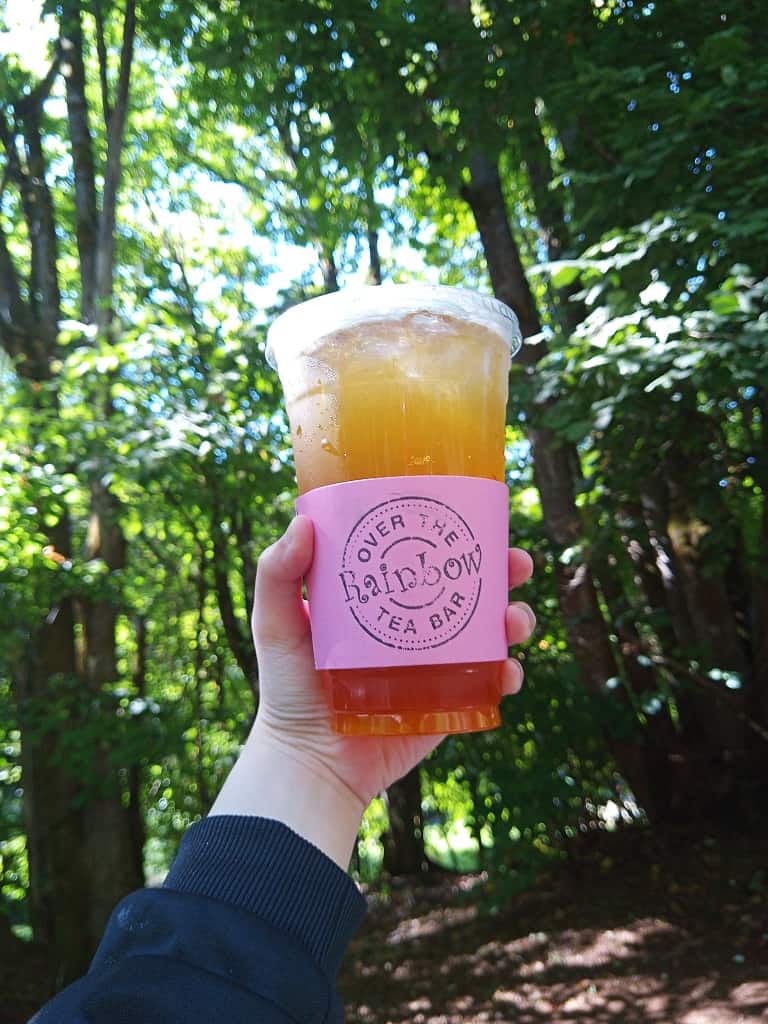 My second favorite boba tea shop in Bellevue is Over the Rainbow Tea Bar. Bonus – it's locally owned! There is a super colorful mural on the wall so that you can take pictures.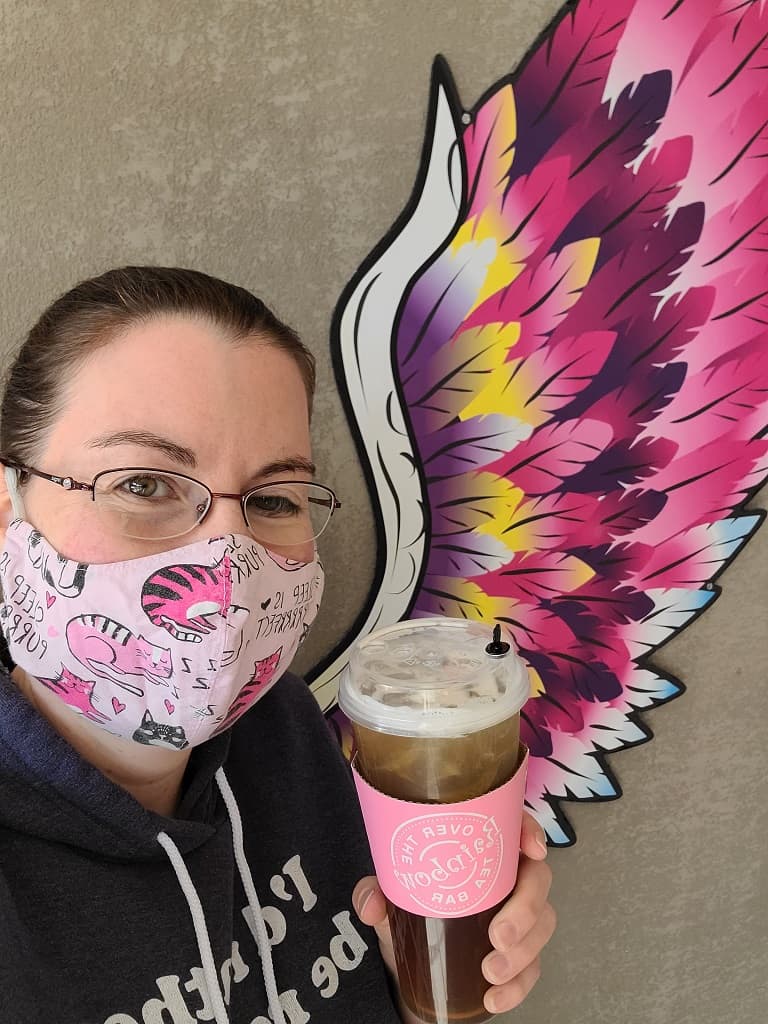 We've tried several drinks from Over the Rainbow. The classic Milk Tea is fresh tasting. Over the Rainbow is one of the only boba shops that offers a peach green tea and it is wonderful.
Over the Rainbow has been pandemic friendly every time we've visited. There is plenty of space in the store to maintain social distancing, even when taking selfies with that beautiful mural.
Website
Address:
3900 Factoria Blvd SE, Suite H
Bellevue, WA 98006
Bonus – this shop location is perfect for indulging in treats. Just a couple doors down is a small Korean grocery store and a Korean bakery with a great selection of baked goods.
#1 – Happy Lemon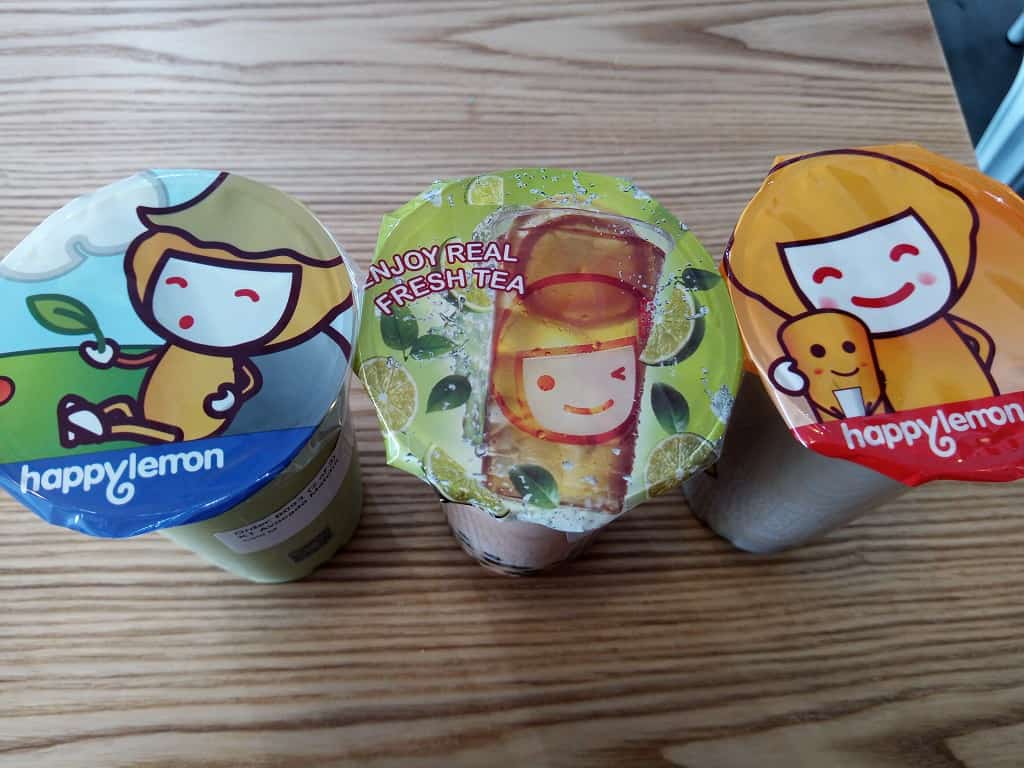 My absolute favorite boba tea shop in Bellevue is Happy Lemon. The wintermelon lemonade is amazing! The shop recently added matcha waffles to their menu. Fresh off the waffle maker, these are some perfect waffles! You can smell the waffles from the parking lot and it makes me happy every time I catch a whiff of those amazing waffles.
There are two Happy Lemon locations in Bellevue, one downtown and the other in an outdoor shopping center. I prefer the shopping center location as it has easier parking options.
Website
Address:
1645 140th Ave NE #B8
Bellevue, WA 98005
Bonus boba tea shop – Timeless Tea
I'm adding in a fourth boba tea shop as a bonus find! This shop is absolutely adorable. The shop's theme is all about cats, which makes this cat lover extremely excited! My favorite drink is the iced orange tea.
Here's a video highlighting the cat theme and the desserts we've tried.
I can't wait for the day boba shops are once again open for studying and working sessions. The Timeless Tea environment is so welcoming and it would be a lovely place to study languages or just read a book.
Website
Address:
14320 Northeast 20th Street
Bellevue, WA 98007
Boba Tea at Home
If you don't have access to a good boba tea shop, you can always drink boba tea at home. You can make boba tea from scratch, which takes a couple of hours. You can make it from a kit (insert photo). Or you can buy boba tea in a can. Our local Japanese supermarket carries several canned boba tea options as well as the ingredients to make boba tea from scratch.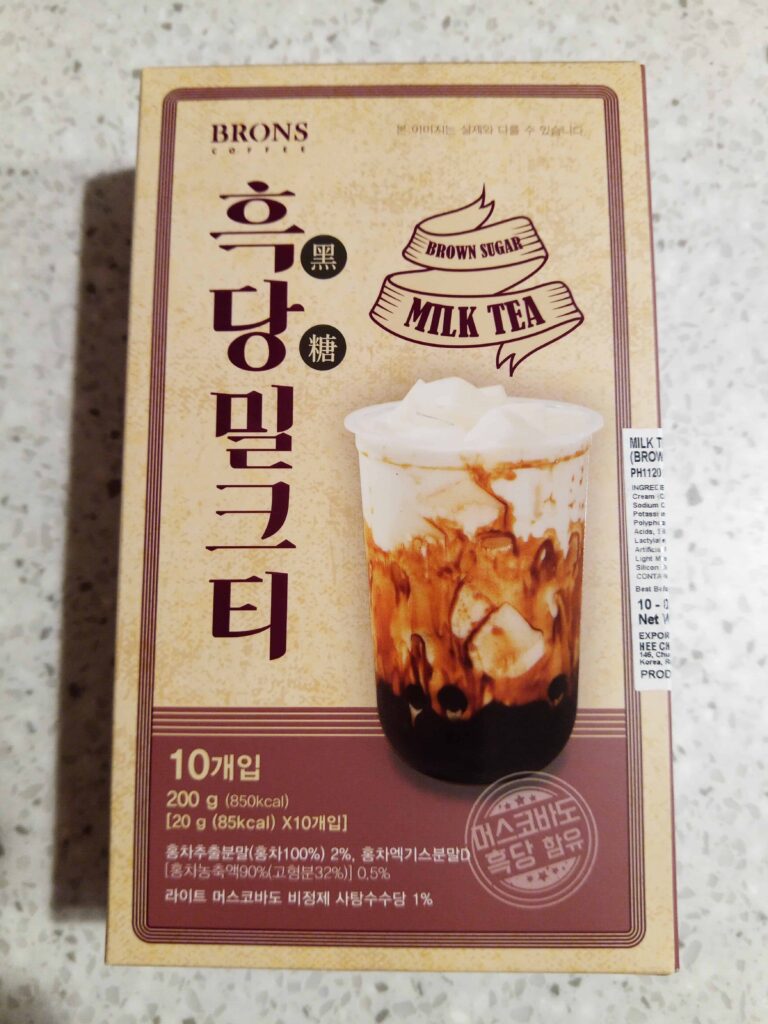 Hopefully this inspires you to try boba tea for the first time if you've never tasted it before! If you're already a boba addict, visit your local boba shop and enjoy another drink!
Of course, drinking boba tea or visiting a new boba tea shop is a great topic to write about on HelloTalk. If you need directions on how to get started with HelloTalk, read my blog post.
Please leave me a comment and let me know what you think of boba tea!