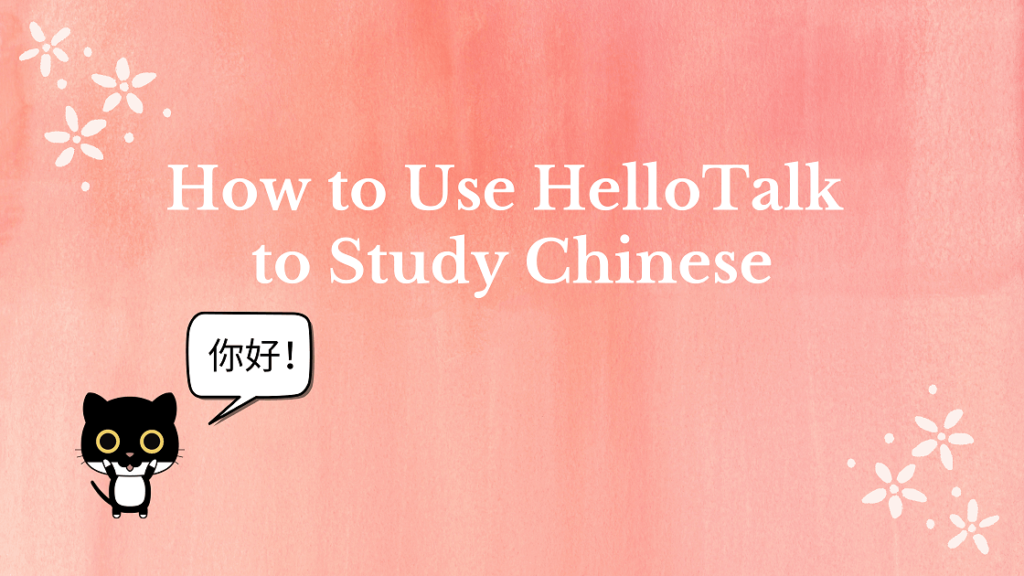 You've studied the textbooks or taken the class. How do you use the skills you've learned in the real world? HelloTalk bridges the gap between book learning and real life application.
Have you heard of an app called HelloTalk?
HelloTalk is both a language learning app and a social media app. Language learners set up a profile and specify which language they are learning and which language(s) they are fluent in. Native speakers are matched with language learners. You can read posts written in your target language and find chat partners to practice your language skills. I highly recommend it! Using HelloTalk has increased my confidence and helped me make the transition from beginner to intermediate level Chinese.
Why use HelloTalk?
Practice reading, writing, speaking, and listening
Make new friends
Improve your confidence by getting more Chinese practice
Corrections from native speakers
It's free!
Three ways to use HelloTalk to improve your Chinese
Write a Moment
A Moment is a social media post and a great way to improve your reading, writing, and grammar. Start by sharing a photo of something that happened during your day. Moments with pictures get a lot more attention! I love to eat so I share a lot of food photos. Then write a short description.
Here is one of my Moments: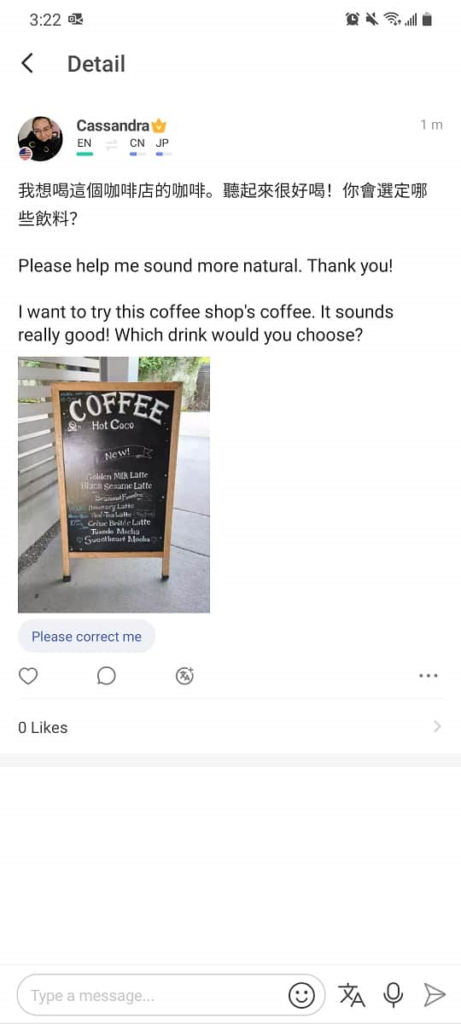 Let's talk about how to write a Moment.
Browse the photos on your phone and pick one (or more!) that you would like to talk about.
Write your post in Chinese.
Then write the same message in English. When you include the English, Chinese speakers can use it to help clarify what you were trying to say in Chinese.
If you have any specific questions about grammar or wording, you can include them in your post. For example, I've asked, "How do you say 'wintermelon' in Chinese?"
Be brave! Stretch your Chinese abilities. Be willing to make mistakes. The more mistakes you make, the faster you'll learn. People will want to help you so they will correct your post and you'll learn new ways of communicating and expressing yourself.
Pro tip – Do you want specific help with grammar? At the end of your post, add the topic "please correct me." You'll get a lot more corrections this way!
Second pro tip – Do you want to sound more natural? Add "please help me sound more natural" at the bottom of your Moment. Some extremely helpful native speakers will rewrite your post to use more natural language.
Once you've posted your Moment, it will show up on other people's feed. They have the opportunity to "like" your Moment, make corrections, or leave a comment.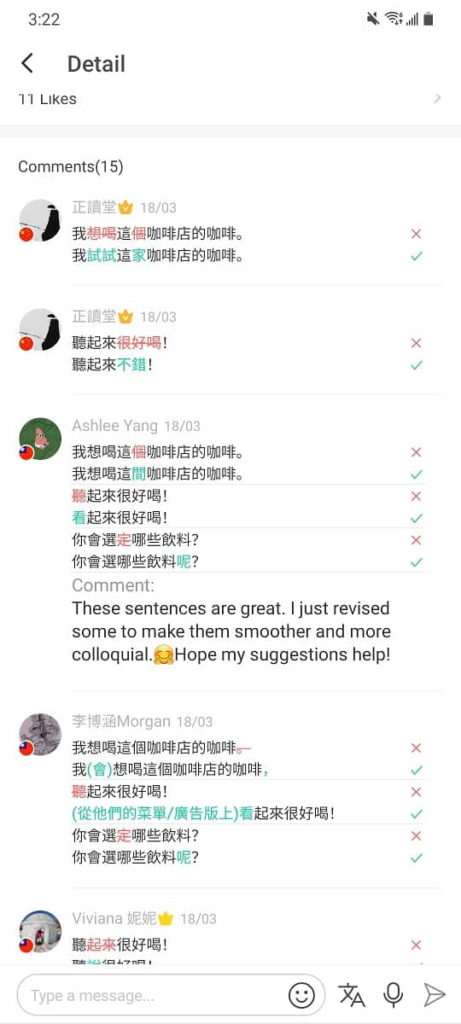 These are the corrections I received on the Moment shown above. As you can see, I made a few mistakes!
You can learn from these mistakes. Carefully read each correction and try to understand why the correction was made. If you're unsure, reply to the person and ask. Most people are happy to explain.
When you receive corrections or comments, it's a great idea to respond and thank the person who helped. This makes it easier to make new friends and build relationships with other language learners. The more friendly you are, the more people will be willing to help you improve your Chinese language skills.
Start conversations with native speakers
Some of the very best learning comes from conversations with Chinese speakers. This is more informal practice than posting a Moment and learning from the corrections. I like to start conversations with people who have commented or corrected my Moments. This way they have already seen my name and may have already read my profile.
Do you want people to correct your conversations? Just ask and be willing to do the same for them. This is a language exchange app so we want to make sure to both correct other's posts and learn from other people's corrections.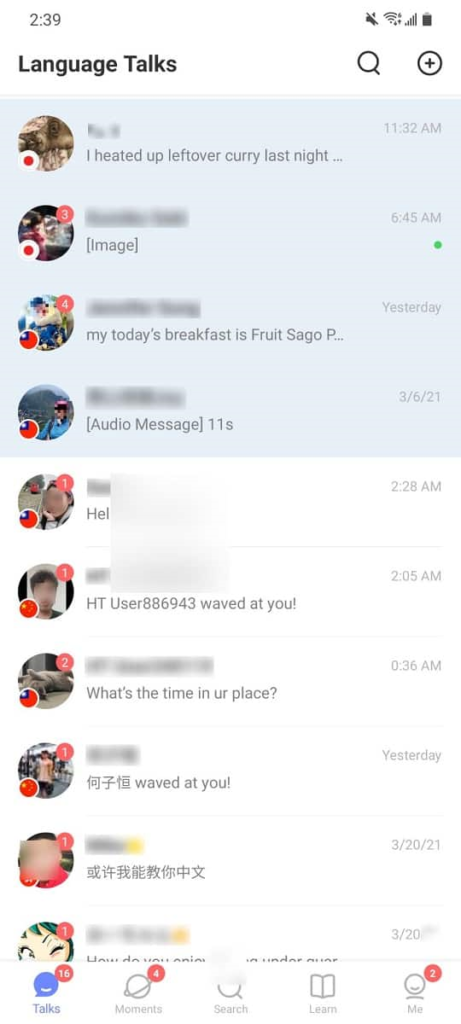 Need help getting a conversation started? Say hello, introduce yourself (in either English or Chinese), and then use one of these conversation prompts:
How long have you been learning English?
Do you like to travel?
What do you do for work?
What's your favorite food?
One of the most challenging things about having conversations is finding yourself only conversing in English. Be careful not to fall into this trap. Other language learners want to practice their English (which is great!) but we also want to practice Chinese. Take turns writing in both languages. Write English for awhile and then switch to Chinese. If your language partner won't practice Chinese with you, find another language partner.
To be honest, I feel more comfortable talking with women than I do with men. This is where the advanced search comes in handy. You can search for native speakers around your own age and/or specify that you want to chat with women only.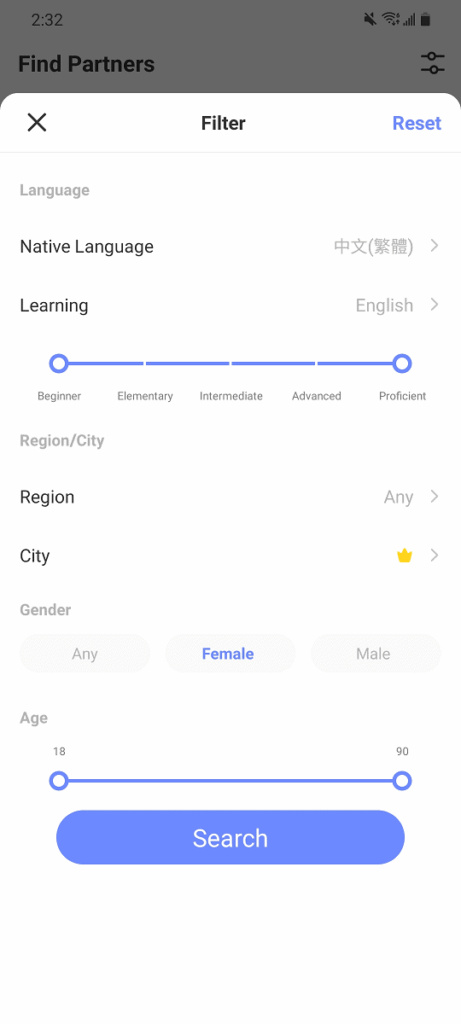 Pro tip – Pin your favorite language partners to the top of your conversations. This way you can easily see when these friends respond to your conversation and it won't get lost in a flood of messages. To pin a conversation, press and hold the conversation from the "Talks" screen. This will cause a menu to pop up. Select the option "Put on 'Top of Talk List.'"
Read the Moments feed
Start reading other people's Moments. Many English learners will post in English because they want corrections. But many people will also post in Chinese. Read these Chinese Moments and leave a comment! It's great reading and writing practice. Because I love food so much, I tend to leave a lot of comments saying, "看起来很好吃! That looks yummy!" Even if I cannot understand everything that is written, the pictures give enough context to be able to comment.
When I leave a comment, I follow the original poster's lead. If they posted in Chinese, I will leave a comment in Chinese. If they posted in English, I will make corrections to their post and then leave a comment in English.
Let's get going!
I hope this encourages you to use HelloTalk to make the transition from beginner to intermediate level Chinese.
Do you have a HelloTalk account? If so, do you have any tips for improving your Chinese with HelloTalk? Let me know in the comments below!